Pretty soon, my mailbox should be exploding with new books just in time for the warmer days to appear. I don't know about you, but I'm still looking around corners for some lemonade and popsicle warmth. Spring is certainly taking it's time this year.
A few of the books will be coming with a lagniappe, a small gift for pre-ordering. How thoughtful and yes, a nice marketing strategy! I find pre-ordering to be very convenient so for me a small gift is a gracious addition. And since I like to see favorite authors when they are in my neck of the woods, I know that many times pre-ordering will give the publisher that push that sets an author on tour. How about you, do you pre-order books or wait until they are available for purchase?
Seems my first book arrival should be here soon. Everything is looking pretty peachy, I'd say!
"W
here is Kent Heyward? The twenty-three-year-old heiress from one of Charleston's oldest families vanished a month ago. When her father hires private investigator Liz Talbot, Liz suspects the most difficult part of her job will be convincing the patriarch his daughter tired of his overbearing nature and left town. That's what the Charleston Police Department believes.
But behind the garden walls South of Broad, family secrets pop up like weeds in the azaleas. The neighbors recollect violent arguments between Rivers and her parents. Eccentric twin uncles and a gaggle of cousins covet the family fortune. And the lingering spirit of a Civil-War-era debutante may know something if Colleen, Liz's dead best friend, can get her to talk.
Liz juggles her case, the partner she's in love with, and the family she adores. But the closer she gets to what has become of Rivers, the closer Liz dances to her own grave."
COMING MAY 12
"The New York Times bestselling author of A Long Time Gonenow explores a Southern family's buried history, which will change the life of the woman who unearths it, secret by shattering secret."
"It has been two years since the death of Merritt Heyward's husband, Cal, when she receives unexpected news—Cal's family home in Beaufort, South Carolina, bequeathed by Cal's reclusive grandmother, now belongs to Merritt.
Charting the course of an uncertain life—and feeling guilt from her husband's tragic death—Merritt travels from her home in Maine to Beaufort, where the secrets of Cal's unspoken-of past reside among the pluff mud and jasmine of the ancestral Heyward home on the Bluff. This unknown legacy, now Merritt's, will change and define her as she navigates her new life—a new life complicated by the arrival of her too young stepmother and ten-year-old half-brother.
Soon, in this house of strangers, Merritt is forced into unraveling the Heyward family past as she faces her own fears and finds the healing she needs in the salt air of the Low Country."
"Greer Hennessy is a struggling movie location scout. Her last location shoot ended in disaster when a film crew destroyed property on an avocado grove. And Greer ended up with the blame.

Now Greer has been given one more chance—a shot at finding the perfect undiscovered beach town for a big budget movie. She zeroes in on a sleepy Florida panhandle town. There's one motel, a marina, a long stretch of pristine beach and an old fishing pier with a community casino—which will be perfect for the film's climax—when the bad guys blow it up in an all-out assault on the townspeople.

Greer slips into town and is ecstatic to find the last unspoilt patch of the Florida gulf coast. She takes a room at the only motel in town, and starts working her charm. However, she finds a formidable obstacle in the town mayor, Eben Thinadeaux. Eben is a born-again environmentalist who's seen huge damage done to the town by a huge paper company. The bay has only recently been re-born, a fishing industry has sprung up, and Eben has no intention of letting anybody screw with his town again. The only problem is that he finds Greer way too attractive for his own good, and knows that her motivation is in direct conflict with his.

Will true love find a foothold in this small beach town before it's too late and disaster strikes? Told with Mary Kay Andrews inimitable wit and charm, Beach Town is this year's summer beach read!"
Book Three of the LOWCOUNTRY SUMMER TRILOGY -- out May 19
"In the powerful and heartwarming conclusion to her bestsellingLowcountry Summer trilogy, New York Times author Mary Alice Monroe brings her readers back to the charm and sultry beauty of Sullivan's Island, South Carolina, to reveal how the pull of family bonds and true love is as strong and steady as the tides."
"It is summer's end and Sea Breeze, the family's beloved estate on Sullivan's Island, must be sold. It is an emotional time of transition as Mamaw and the three sisters each must face loss and find a new place in the world.
Harper, the youngest sister, arrived at Sea Breeze intending to stay only a weekend, but a rift with her wealthy, influential mother left her without direction or a home. During this remarkable summer, free from her mother's tyranny and with the help of her half sisters, Harper discovered her talents and independent spirit.
But summer is ending, and the fate of Sea Breeze hinges on Harper's courage to decide the course of her own life. To do so she must release her insecurities and recognize her newfound strengths. She must accept love fully into her life—the love of Mamaw, Carson, and Dora, the love of Sea Breeze and the lowcountry, and most of all, the love of a Wounded Warrior who has claimed her heart."
"The third book in Mary Alice Monroe's trilogy that brims with "stories that touch the mind and heart of her readers" (Huffington Post), The Summer's End follows three half sisters bound by love for their grandmother and the timeless beauty and traditions of the lowcountry."
Of course I can't forget to suggest a few others that I've read that just tug at my heartstrings since the writing and the stories are so beautiful. I think you'll love these two books: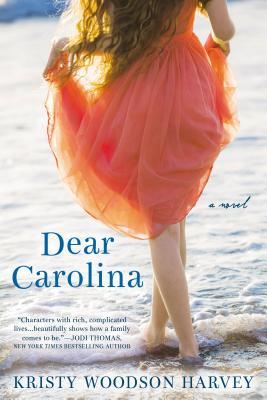 You can learn more about Kristy and her work as an Author and a Designer by visiting her website where you can also pre-order Dear Carolina - See more at: http://beachwalkermari.blogspot.com/search/label/Reviews#sthash.WOs07mxq.dpuf
All of
Amy's books can be purchased directly from her

website

where all books are signed by her
- See more at: http://beachwalkermari.blogspot.com/search/label/Reviews#sthash.WOs07mxq.dpuf
All of these books can be found on the authors website or at all the usual places including Barnes & Noble and Amazon, but if you are so inclined, I suggest purchasing at and supporting a local independent bookstore in your neighborhood.
What books are in your 'to be read' stack?