This is my current collection of Pendleton Blankets. The best, warmest and coziest blankets you'll find anywhere ... and all Made in the USA. I love the bright colors and design.
This is the blanket that I would like to get next. This Red, Cream and Black
Navajo Water Blanket
is just beautiful. I'd like to feature it as a wall hanging because to my eye, it's a piece of art.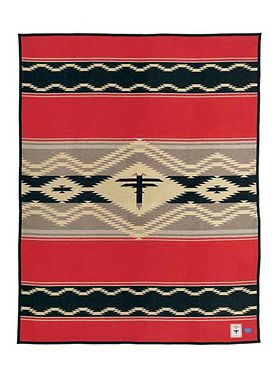 I'm also interested in this beautiful
Grey San Miguel Blanket Collection
. The grey, red and white colors would be so nice in a bedroom ... the dark colors lend themselves well, I think, to a male room. Perhaps it might be nice for Beachwalker Boy's bedroom.